As many within the automotive community have heard, California has recently made changes to its smog inspection process. According to the California Bureau of Automotive Repair, starting next week, California will be checking for modified ECU software in all vehicles 8 years or older that require smog testing. This also applies to vehicles that are 4 years or older while being sold within the state.



Information from Bureau of Automotive Repair
My Vehicle failed a Smog Check for having modified software. What can I do?
"Beginning July 19, 2021, vehicles with software not provided by the original equipment manufacturer (OEM) or approved through a California Air Resources Board (CARB) Executive Order (EO) will fail Smog Check.
Before your vehicle will pass a Smog Check, you must have the vehicle's software restored to the OEM software version. Once the software is restored, have your vehicle reinspected by a licensed Smog Check station. Note that vehicles initially directed to a STAR or Referee station must return to the same station type to complete the inspection process.
If you believe the vehicle's software is already OEM or CARB-approved and yet your vehicle failed Smog Check, schedule an inspection with the Smog Check Referee.
If you unknowingly purchased a vehicle with illegally-modified software, you may file a complaint with BAR."




The new system reads out the VIN and specific data over the vehicles OBD2 port. That information is then cross-referenced against a database compiled from data supplied by auto manufacturers. If the system detects a mismatch, the smog technician would then need to check for a CARB EO label for the tune for that specific vehicle. A CARB EO number is a California Air Resources Board Exemption Order number. These are smog exemptions that the manufacturer (Weistec) has obtained from CARB after successfully passing stringent emissions testing. After verifying the EO number to be applicable to that vehicle, the vehicle would be allowed to complete the emissions testing as usual.
Now What?
For nearly 10 years now, Weistec has been one of the only, if not the only company in the European performance market to have successfully obtained CARB EO numbers for many of its products.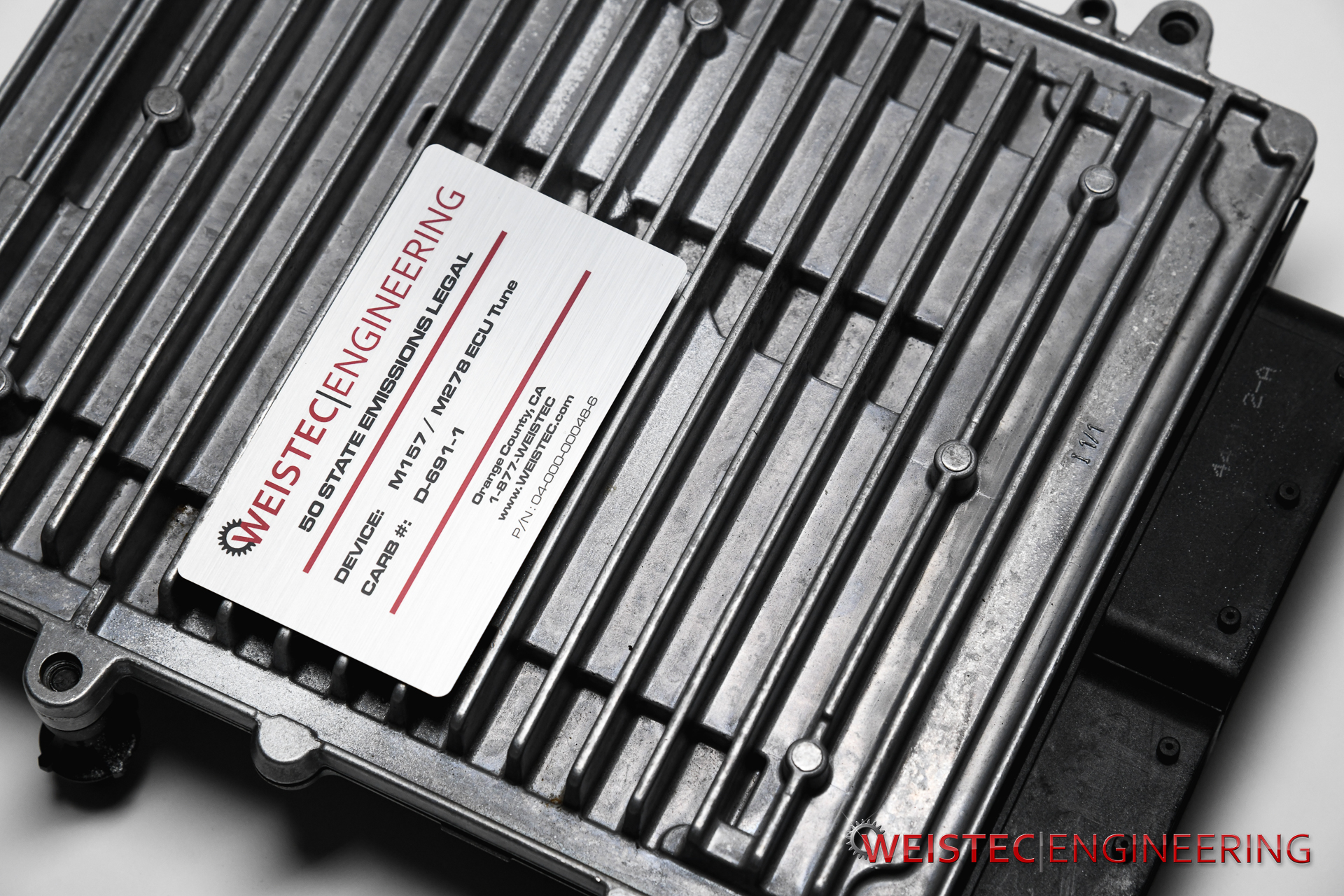 Our 50 state legal W.1 tunes do not require any additional modification. It's as simple as flashing the ECU and applying our verified CARB EO label in the proper location under the hood. In addition to tuning, we also developed the industries first and only M156 and M159 Supercharger System that not only produces incredible power gains but also passes all emission standards across all 50 states.
What If My Tune Is Not 50 State Legal?
According to the California Bureau of Automotive Repair, you must have the software changed back to the OEM original software in order for the vehicle to pass. Or you must tune the vehicle by a manufacturer that has a CARB EO number appointed for that vehicle.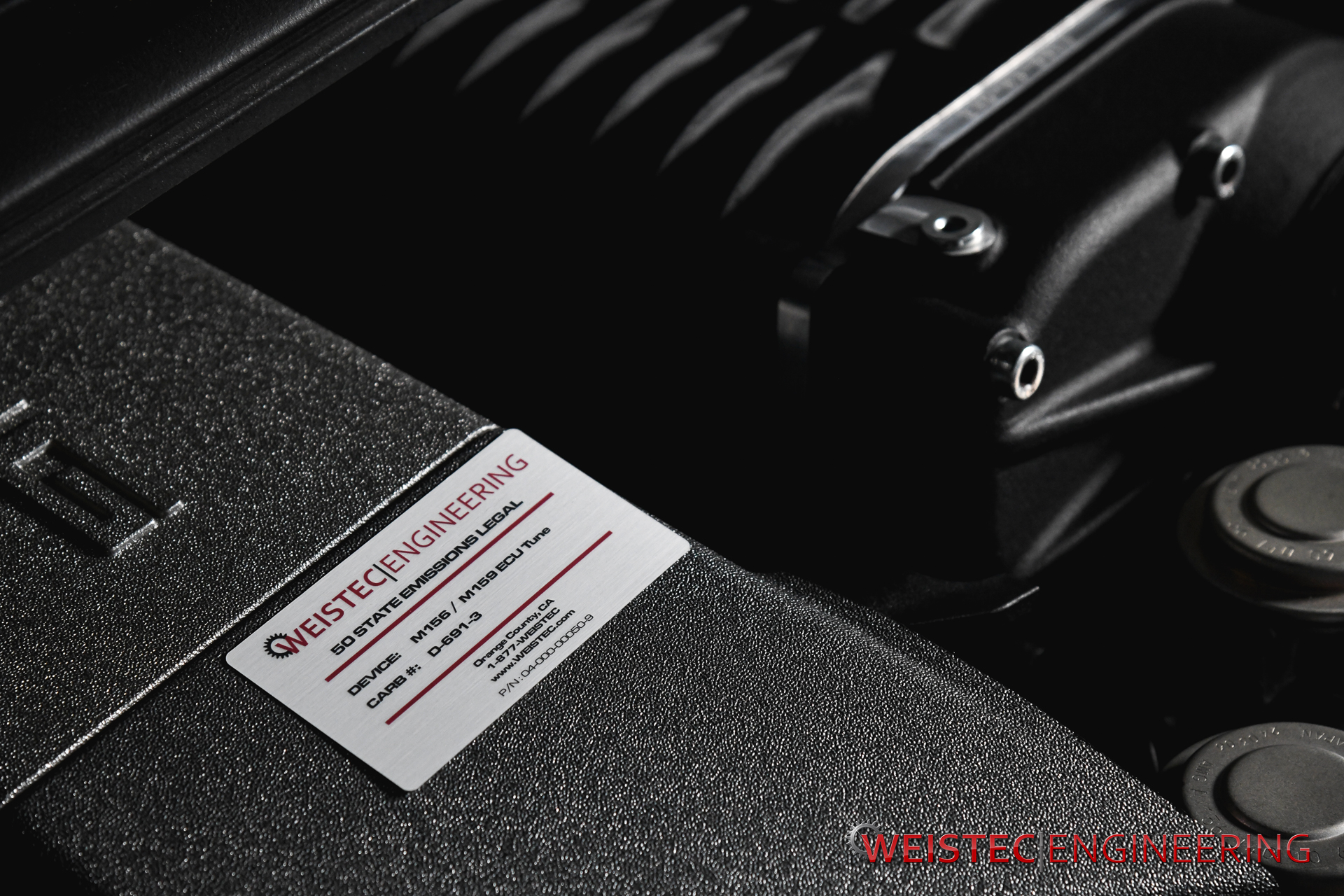 Vehicles that do not have a 50-state legal tune would fail the smog check, even if the tune otherwise keeps all the emissions monitors properly functioning. CARB is also putting together measures for combating forged EO stickers for ECU tunes. We continue to work on growing our EO list, and add coverage across our catalog.
Where do I look for a Weistec EO#?
On the specific tune page on Weistec.com. Look below the "Add To Cart" tab, you will see the correct EO# for your vehicle if applicable.