| | |
| --- | --- |
| Manufacturer | Weistec |
| Engine Family | M156 |
| 1 | 1 |
year
make
model
trim
engine
2011
Mercedes-Benz
SL63 AMG
Base (R230)
NA 6.2L V8 (M156)
2010
Mercedes-Benz
SL63 AMG
Base (R230)
NA 6.2L V8 (M156)
2009
Mercedes-Benz
SL63 AMG
Base (R230)
NA 6.2L V8 (M156)
2008
Mercedes-Benz
SL63 AMG
Base (R230)
NA 6.2L V8 (M156)
2007
Mercedes-Benz
R63 AMG
Base (W251)
NA 6.2L V8 (M156)
2011
Mercedes-Benz
ML63 AMG
Base (W164)
NA 6.2L V8 (M156)
2010
Mercedes-Benz
ML63 AMG
Base (W164)
NA 6.2L V8 (M156)
2009
Mercedes-Benz
ML63 AMG
Base (W164)
NA 6.2L V8 (M156)
2008
Mercedes-Benz
ML63 AMG
Base (W164)
NA 6.2L V8 (M156)
2007
Mercedes-Benz
ML63 AMG
Base (W164)
NA 6.2L V8 (M156)
2010
Mercedes-Benz
CLS63 AMG
Base (W219)
NA 6.2L V8 (M156)
2009
Mercedes-Benz
CLS63 AMG
Base (W219)
NA 6.2L V8 (M156)
2008
Mercedes-Benz
CLS63 AMG
Base (W219)
NA 6.2L V8 (M156)
2007
Mercedes-Benz
CLS63 AMG
Base (W219)
NA 6.2L V8 (M156)
2010
Mercedes-Benz
CL63 AMG
Base (W216)
NA 6.2L V8 (M156)
2009
Mercedes-Benz
CL63 AMG
Base (W216)
NA 6.2L V8 (M156)
2008
Mercedes-Benz
CL63 AMG
Base (W216)
NA 6.2L V8 (M156)
2007
Mercedes-Benz
CL63 AMG
Base (W216)
NA 6.2L V8 (M156)
2010
Mercedes-Benz
CLK63 AMG
Base (W209)
NA 6.2L V8 (M156)
2009
Mercedes-Benz
CLK63 AMG
Base (W209)
NA 6.2L V8 (M156)
2008
Mercedes-Benz
CLK63 AMG
Black Series (W209)
NA 6.2L V8 (M156)
2008
Mercedes-Benz
CLK63 AMG
Base (W209)
NA 6.2L V8 (M156)
2007
Mercedes-Benz
CLK63 AMG
Base (W209)
NA 6.2L V8 (M156)
2010
Mercedes-Benz
S63 AMG
Base (W221)
NA 6.2L V8 (M156)
2009
Mercedes-Benz
S63 AMG
Base (W221)
NA 6.2L V8 (M156)
2008
Mercedes-Benz
S63 AMG
Base (W221)
NA 6.2L V8 (M156)
2007
Mercedes-Benz
S63 AMG
Base (W221)
NA 6.2L V8 (M156)
2010
Mercedes-Benz
E63 AMG
Base (W212)
NA 6.2L V8 (M156)
2009
Mercedes-Benz
E63 AMG
Base (W211)
NA 6.2L V8 (M156)
2008
Mercedes-Benz
E63 AMG
Base (W211)
NA 6.2L V8 (M156)
2007
Mercedes-Benz
E63 AMG
Base (W211)
NA 6.2L V8 (M156)
2014
Mercedes-Benz
C63 AMG
Black Series (W204)
NA 6.2L V8 (M156)
2014
Mercedes-Benz
C63 AMG
Coupe (W204)
NA 6.2L V8 (M156)
2014
Mercedes-Benz
C63 AMG
Base (W204)
NA 6.2L V8 (M156)
2013
Mercedes-Benz
C63 AMG
Black Series (W204)
NA 6.2L V8 (M156)
2013
Mercedes-Benz
C63 AMG
Coupe (W204)
NA 6.2L V8 (M156)
2013
Mercedes-Benz
C63 AMG
Base (W204)
NA 6.2L V8 (M156)
2012
Mercedes-Benz
C63 AMG
Coupe (W204)
NA 6.2L V8 (M156)
2012
Mercedes-Benz
C63 AMG
Base (W204)
NA 6.2L V8 (M156)
2011
Mercedes-Benz
C63 AMG
Base (W204)
NA 6.2L V8 (M156)
2010
Mercedes-Benz
C63 AMG
Base (W204)
NA 6.2L V8 (M156)
2009
Mercedes-Benz
C63 AMG
Base (W204)
NA 6.2L V8 (M156)
2008
Mercedes-Benz
C63 AMG
Base (W204)
NA 6.2L V8 (M156)
2011
Mercedes-Benz
E63 AMG
Base (W212)
NA 6.2L V8 (M156)
See more
For those that are building their M156 / M159 engine, either as a rebuild or a performance build, Weistec Engineering offers the complete M156 Engine Bearing Set. The set includes both the main bearings and the rod bearings. All bearings are Mercedes OEM and are compatible with the OEM connecting rods as well as our Billet Rods.
Key Features:
Bearing Material Compares to Aftermarket Style Race Bearings

Complete Set Of Main Bearings

Complete Set of Rod Bearings

Compatible with OEM and Weistec Billet Rods
M156 Main Bearing Code Identification Guide
---
The M156 Engine has 5 main bearings. When ordering a Main Bearing Assembly, it is necessary to provide Weistec Engineering with the bearing code for your specific engine. It is vital that the code is provided to ensure that the proper bearings are supplied for your specific engine. The identification process is very simple. Actual assembly of an M156 engine must be performed by an experienced engine builder following Mercedes OEM specifications for torqueing procedures.
---
Location 1 is on the snout of the crankshaft. It is a 5 character code consisting of any combination of the following letters: R, Y, G, B. In the picture the code is circled in red.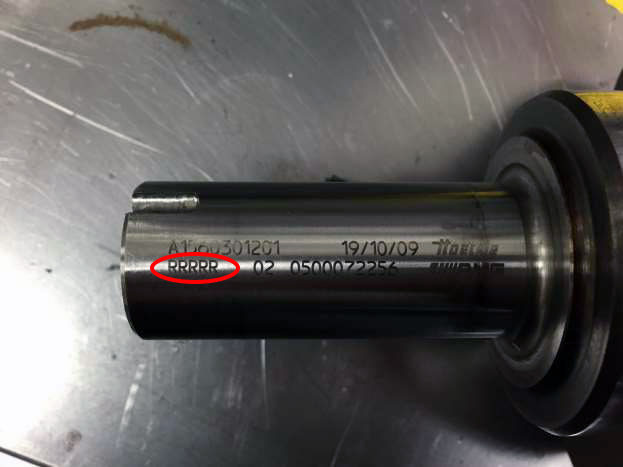 ---
Location 2 is on Bank1 side of the engine just behind where the engine mount bracket bolts on to the engine block. It is a 5 digit code consisting of any combination of the following numbers: 1, 2, 3, 4. In the picture below the code is circled in red. Note: Very early M156 engines may not have this code. If your engine is an early M156 engine and does not have the code in location 2, the code from location one is all that is necessary